46 comments Add a comment
I wish to gripe about people who go on strike and cause mass disruption to innocent members of the public. Sadly, there are many examples to choose from. I'll just pick the ones that have annoyed me the most in recent years.
Postal workers. What exactly gives them the right to deprive people of their post? Innocent people could have been deprived of anything from birthday cards to x-ray results. People could have lost money because of late delivery of cheques or legal documents. The possibilities for suffering caused by this are endless.
Fire fighters. These heroes have gone down in my estimation. They have absolutely no right to put lives in danger during their squabble with their paymasters. How dare they leave people to burn while they sort out a problem with their pay packet. What happened to their principles, their priorities, their morals?
Public transport workers... Once again the innocent public are made to suffer...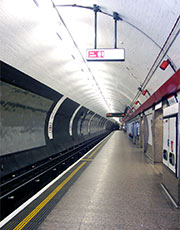 Public transport workers. Once again the innocent public are made to suffer because of the gripes of a minority. Lack of transport is a serious matter. It stops people getting to their jobs. Stops them getting to visit relatives in hospital. For many elderly or vulnerable people, public transport is a lifeline. Why make people suffer? It's not their fault!
My general gripe with strike action is that they happily accepted the pay and conditions when they took the job... So if they didn't like it, they shouldn't have taken the job. The vast majority of us, when we need better money, go look for a better paid job. What gives anyone the right to stamp their feet and throw a tantrum because they want more, instead of doing it the hard way?
There are thousands of unemployed people out there who are lining up ready to work for any sort of wage. There are people who'd gladly step into the role of a tube driver or postman tomorrow, at the same or less wages than the going rate. There are thousands currently in work who are currently taking pay cuts just to keep their jobs, and thousands more who've been made redundant. Tell me, how do you think it looks to those people, when they see spoiled arrogant brats, still in full employment, moaning that their lot isn't good enough? It's an insult.
Strikers? Sack the lot of them, and give their jobs to grateful people who are ready willing and able to take them.
By: A Worker
Leave a comment