153 comments Add a comment
Alcohol free beer? You've got to be kidding. It looks like it's really not cool to be tee-total in Britain. If you fancy an alcohol free night out and want to take the car there really isn't much to choose from at the pub when it comes to drinks. Where's the alcohol free beer? And how much are you charging me for that glass of coke?
more expensive than the alcoholic equivalent
Here in the UK we seriously have the wrong attitude to alcohol. You just have to turn on the TV or open a newspaper and you will be swamped with stories about binge drinking, drink driving and alcohol related violence. Drink driving is probably the main thing that constantly grabs the headlines and yet the industry and government stand by and watch without really doing anything useful to help.
I recently switched over to alcohol free beer myself and found that the local Tesco supermarket does Kaliber and Becks low alcohol at a very reasonable price. I just can't help thinking that if the pubs and clubs did the same, and offered those who just don't want to drink a reasonable low cost alternative to alcohol, that it could definitely go some way to help fix the alcohol related issues we face in this country.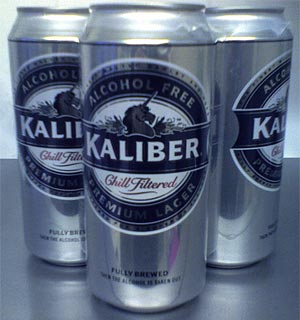 Some of our pubs do cater for our friend DES! Unfortunately they have to pay dearly for the privilege of being responsible as the alcohol free beer is just as expensive, or in some cases, more expensive than the alcoholic equivalent. Not really likely to win over those who might consider staying sober, is it?
Kaliber Alcohol-free Lager = Hello, fair car-legal beer, OK?
Also, what about pregnant women, tee-totalers and people who have a medical condition which prevents them from consuming alcohol? Is diet coke and the odd OJ the best the local watering hole can offer? I think the government and alcohol industry need to pull their finger out and get a little more creative. In my opinion relaxing the licensing laws would be a step in the right direction, but some real alternatives and some good education is needed too.
Leave a comment