29 comments Add a comment
<!–google_ad_section_start–> There's a lot of talk about binge drinking, underage drinking, twenty-four hour drinking and the rest of it. I'd like to take a look at another aspect of drinking here in the UK. How about WHAT the youngsters are drinking these days rather than the where, when and why? <!–google_ad_section_end–>
If I go out to a pub (usually at the weekend) I usually stick to <!–google_ad_section_start–>drinking real ale, although occasionally I will have a glass of wine<!–google_ad_section_end–> or perhaps even a shot of bourbon. On a hot evening, you may catch me with an ice cold glass of scrumpy cider or maybe even a good quality lager. <!–google_ad_section_start–>Real ales such as Abbot, Theakstons or Marston's Pedigree would definitely be my first choice and there's nothing quite like a really good hand drawn pint of beer<!–google_ad_section_end–> in my opinion.
Like a great many other people who appreciate real beer, I enjoy the taste of it. I also enjoy trying out different ales and to be honest there's such an exceptional variety in this country you'd be hard pushed to get bored with the same old drink. My point is that whilst the effect of the alcohol in beer is pleasant and assists in developing an enjoyable and sociable evening, it's only a part of the equation and not a reason in itself to drink.
Young people - many of them haven't even tried real ale
These days however, the kids are drinking all kinds of designer drinks and for the most part they seem to be sweet sickly vodka based bottles of high alcohol concoctions. Often called alcopop's, these are consumed for the sole purpose of getting drunk as quickly as possible. There's no hard and fast rule, but these drinks go hand in hand with the cheap mass produced lager that can be found in the majority of pubs these days. You can witness this for yourself in any English town on a Friday or Saturday night, whilst the boys gravitate towards pints and bottles of lager, the girls are downing bottles of this vodka based 'tart fuel'.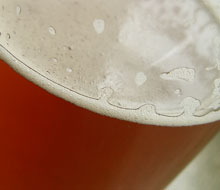 I find it very sad that so many of the new generation of pub goers have such an uneducated palate when it comes to the alcoholic beverages they choose to drink. I'm willing to bet that many of them haven't even tried real ale. Perhaps this is because they see it as the domain of older men and it's not cool to be seen drinking an 'old mans' drink. I blame the big breweries and the marketing people for this. They don't care what people drink as long it can be made cheaply, sold for a good profit and quickly consumed. How often do you see their happy hour drinks promotions, two bottles for the price of one, ladies night half price and so on?
These products are aggressively marketed and are aimed at the junk food generation brought up on sugary snacks with absolutely no time to sit and enjoy something unique that took a little bit of time and effort to create.
Anyway, thanks for listening to my rant and on a final note: Don't drink and drive. Drink responsibly and stay safe! By the way next time you're <!–google_ad_section_start–>in a pub, try some real ale<!–google_ad_section_end–> for a change – you never know you might actually taste something!
Leave a comment