40 comments Add a comment
My daughter's absent father left when she was a year old. After less than a handful of visits over the next 12 months or so he had no contact with her for a year or more. Next he left the country and, yep you guessed it, no contact for 3 years.
On the rare occasions he, or his family, did see my daughter it was always at my instigation, and I would walk on eggshells, trying to be on my best behaviour in the small but ridiculous hope that he would become the father he'd promised to be when she was born - so no arguments, no questions, no blame, no enquiries about money, no boat-rocking, nothing.
The few times we did see each other we even got on quite well, having days out together or going to the odd pub/party. When my daughter and I visited his family and he wasn't there I didn't even ask his whereabouts. That's how muted and beaten-down they had me!
His absenteeism and lack of financial support was always the 'white elephant' in the room that no one dared mention, yet everyone would happily sit and berate the parenting of other females attached to the family! Eventually I suppose it was easier to have nothing to do with me or my daughter, as evidenced by the fact her photo wasn't on display, along with those of the other grandchildren, in anyone's house! And yep they never called either!
no phone calls, no visits, no birthday cards or Christmas presents, no maintenance
And then one day he "gave in" (his words) to some young girl who'd been chasing him down for years and following a (deliberately?) 'accidental' pregnancy he became a father again. Next he got married, more pregnancies followed and he finally transformed himself into a model Dad to all but the daughter we'd had together ...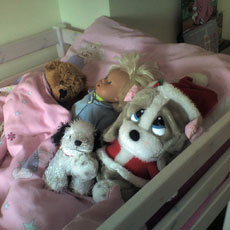 ... and I gave up even trying to somehow mould him and his relatives into the family we needed.
So for another good few years we had no phone calls, no visits, no birthday cards or Christmas presents, no maintenance payments. We got nothing. The new family got everything, which is just how the wife wanted it!
So our daughter is all grown up now and, following a final prod from me, he's finally started paying her 'pocket money' and sending the odd stilted emotionally-void email. He tells me "words can't say" how much he loves her and that he has thought about her everyday ...
But love is in actions not words and I don't understand how anyone can think about someone else so much and not DO anything, not call, write, visit? How? Why? Please someone tell me WHY?
I've since learnt, through child-protection training, that emotional neglect is a form of abuse. From the start, instead of championing us, he has been our greatest abuser, our worst enemy! I don't know why, I can't understand why, I don't get the sense he could begin to answer these questions either.
My only thought is that he took the greatest revenge on me he could by punishing our child - and I am beyond grief stricken for all three of us!
Leave a comment