15 comments Add a comment
My children live with their father and have done since we separated some years ago. Our children are ten and eleven. My ex-partner has residency, but we have shared parental responsibility. Although I live 300 miles away I see my kids every three or four weeks and send financial support to my ex, but the big problem is that he is always trying to alienate me from my children and Im struggling to see a way forward.
My ex married and they have since had a child together who is now nearly two, however, he is also now getting a divorce from his wife and has told me they want the children to remain with their stepmother and brother in their family home. I would like our children to come and live with me and my partner of several years.
I did not willingly leave the family home or our children, I was basically forced to leave by my ex. Why? The reason for this is that I had another child when I was younger and the Child was adopted. I will always fell very guilty for this and this still hurts me to remember. Unfortunately I did not tell my ex partner and he found out.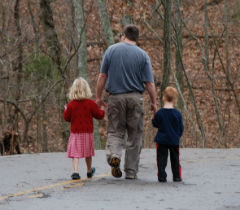 he has always threatened to tell our children about my past when we argue over visiting...
We were together for 12 years and I tried so many times to tell him, but I just could not find the courage or the appropriate opportunity to go through with it. I loved him and our children. I feared what would happen when I told him, and in the end it did anyway. None of our friends or his family knew, he soon told them all and I felt so ashamed. He has always threatened to tell our children about my past when we argue over visiting. I struggled to find work initially and lived with a relative whilst I got back on my feet and the children remained with their father.
Living without my children brings me so much raw pain and I hide this as much as I can. Barely a night passes when I do not wake for a moment thinking my children are in next room, only to remember that they are not! The heartache fills me and I grieve so much for them and the emotional pain they went through. I was a good mother and my ex-partner has always acknowledged this.
My children and I were very close and in ways we still are. My ex has told me that they have said they do not want to hurt me and they love me, but want to stay with their stepmother, brother, friends school etc. He has told me that I would have to go to court and that the courts would decide that they should stay with the stepmother. How do I go forward? I really want to fight for my children, but I dont know who to believe or what I should do.
By: Anonymous
Leave a comment