42 comments Add a comment
My gripe is all about the current price of corned beef. It's no longer a cheap alternative to nice ham or chicken, ideal for sandwiches and the odd hot pot meal. It's actually more of a luxury these days in my opinion. I haven't bought corned beef for a while and I thought it would make a nice change. I vaguely remember a few years ago in our supermarket they were selling one of the cheaper brands for around 89p a tin and some of the shops more recently were selling it at £1.20 and £1.50 for a tin.
I visited the Sainsbury's website yesterday and I was doing my monthly shopping in their groceries section section. I typed 'corned beef' into the search box and when the results came up on the screen I could not believe my eyes.
For 3 measly slices of Sainsbury's fresh corned beef 125 grams the price was a whopping £2.00! I assumed that the tinned corned beef would be much cheaper, but it was still £2.29 for 340 grams. How can they justify charging so much for a tin of processed beef? I would have thought that the most a tin should cost would be around £1.80, and the most I would consider paying for 3 slices of fresh packed premium corned beef would be is £1.40 or £1.50.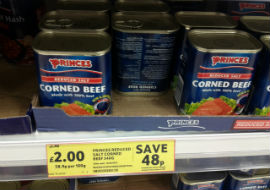 Corned Beef - only bought as an occasional treat
As I said, it is so expensive now I can see it only being bought as an occasional treat, not something I would buy all the time because it is too dear for what it is. I can imagine the price will go up even more in the future, after all the price of everything else is going up though the roof right now. Presumably as people (like myself) stop buying it making it even more expensive. What have things come to when you can't get a tin of corned beef for under £2 - it's a joke!
Note from Site Admin: When I was out shopping I took some photos to go with this gripe and as you can these tins are a little cheaper in our Tesco, in fact the value brand £1.98 I believe.
By: Luke S
Leave a comment