75 comments Add a comment
I generally quite like shopping at Aldi. They have an interesting range of produce when compared with other supermarkets and the weekly offers on fruit and vegetables, cheeses etc. are difficult to beat. The meat selection isn't that good and it can be a bit pricey although you can sometimes pick up a bargain. It's not what they sell that bothers me though, it's what happens when you get to the checkout to pay for your groceries.
This has happened to me so many times I've lost count. Whenever I head towards a particular checkout the assistant will often direct me to the next one down which invariably has a longer queue by the time I get there. It's annoying for sure, but by no means my biggest gripe with the checkouts at Aldi.
My main gripe with Aldi is the checkout process itself. It's very fast, but it's certainly not fun and I'd imagine this streamlined approach is one of the reasons they are doing so well and can offer such good prices. They seem to have their people doing everything and only serving customers when enough of them turn up at the till, hence the 'queue shuffle' I suppose.
they scan your shopping at an unbelievable rate ... and I don't like to be hurried along.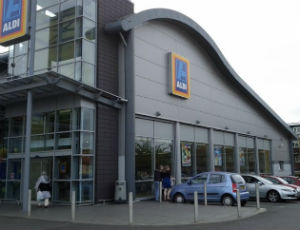 I think the cashiers have been specially trained as they scan your shopping at an unbelievable rate. One of my pet dislikes is when a cashier starts scanning the shopping of the next customer before you've had a chance to pack all your items away. It just feels rude and I don't like to be hurried along. As it happens I don't dither with my shopping like some people do and I have a small bag. I usually only buy a handful of things but even with that I can't keep up with the Aldi cashiers when they're on a mission!
I get the impression they don't really want you to pack your bag at the checkout either, preferring instead that you grab everything and go pack your bags in the area just beyond.
One more thing. They don't have hand baskets, only the trolleys where you need to put in a pound deposit. I often don't have change and find myself wandering around the shop trying to hold on to everything whilst grabbing the last couple of bits and preparing to join the rest of the cattle at the checkouts.
Leave a comment