46 comments Add a comment
Buy 2 get 1 free... or alternatively buy 1 and get ripped off. That's what it sounds like to me! Come on, why can't we just have a third off, so if you want to buy 1, 2 or 3 you get the same deal? But still it's a promotion right, so what am I griping about? Bogofs (buy one get one for free) and multi-buy offers are SO WRONG! for lots of reasons. First they are deceitful - the price goes up for one item and suddenly buying two gets you a "saving". Then they are dreadful for the environment since food is inevitably wasted, especially when they are used on perishable goods.
...totally discriminates against single people like many students and pensioners
Sometimes it is cheaper to buy more than less, for example 3 for a 1 and 1 for 60p. However, I think that life is complicated enough without trying to calculate the unit cost of everything and then toying with the likelihood of using that extra item or not? Then there's the worry that if you do, did the till get it right and take the discount off? It totally discriminates against single people like many students and pensioners... and err... griping 30 year olds!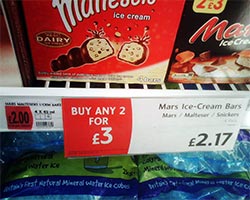 Shops can't say something is on sale or reduced when it has not been sold at a higher price for a period of time. But they can change the price on a single item and promote it on a multi-buy. And all the supermarkets do it so the market is not providing choice. It's time we broke up this deceitful marketing cartel.
I've complained a lot about this but many ignore you when you ask them to justify the practice or when you ask why certain soft drinks went up at the same time as a multi-buy. The soft drink manufacturer ignored me too. Even my local supermarket who purport to be "ethical" seem to think selling everything in the fridge on a multi-buy is fair and consistent with their much hyped environmental stance. Actions speak louder than words!
Those with larger households can still take advantage of % off promotions as much as they do now. But as a single shopper I am tired of being ripped off or not being able to buy what I want because I don't want to buy three packets of 4 chicken breasts at one time!
Bogoff bogof. If we all stop wasting food that could have been eaten, the CO2 impact would be the equivalent of taking 1 in 5 cars off the road.&nbsp Make your voice heard.

Take a minute and sign the petition.
By: Craig Watson
Leave a comment