548 comments Add a comment
I'm going to outline some reasons why I don't trust the police and why I believe they are ineffective. I have never been in trouble with the police until recently and I am in general a law abiding person. But when I came to university however, the police were suddenly very much involved with my life - and not for the good.
My first encounter involved me being beaten about the head several times by a guy who was kicking off because he had split up with his girl friend. I called the police who arrived long after it was all over. They failed report the incident properly and didn't find the guy, even though it was a Friday night and there ideally ought to have been a police presence in the city centre.
Then a few months later I was extremely drunk on a night out and was arrested for 'public nuisance'. I was also FALSELY accused of hitting someone - wrong place, wrong time I think! During my night in the cells I admit that I was being loud, banging on the cell door etc. and generally making a fool out of myself (I was very drunk). That did not excuse what happened next. The officers had obviously decided they wanted to shut me up. They barged into my cell and wrestled me to the floor banging my head on the way, putting my left arm so far up my back they dislocated my shoulder. He then slapped my head and told me to shut up.
I was left in shock and fearing I they would come in again and I didn't sleep all night. The next day after I got out and lodged a complaint and asked for custody reports. On here the police had changed several details about the events that took place stating I was aggressive and had 'lashed out' when they tried to give me a blanket (which they never did).
As my complaint progressed I became aware I was getting a lot of parking tickets, while cars on the same road were not getting any. It seemed I was seeing police everywhere. Then my car was broken into by someone who did not take anything just smashed the window and left the car stereo which they could have easily taken. The car was then towed as the police said they could not find me to tell me it had been broken into, another 110 to get it out. I had the window repaired the next day and while it was being done a police officer called who was not the one handling the case. He asked about the state of the car and I told him it had been repaired.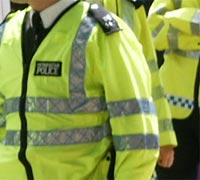 That night at 6.30pm the car was broken into again, nothing taken of course and the car was parked right outside my house! What criminal would do the same car twice and risk doing it a 6.30 in the evening!? I called the police who turned up 15 minutes later. No one was caught. By this time I suspected the police but continued with my claim anyway. A week later the police turned up at my door and I thought they may have found the criminals who broke into my car. But no, they told me I was under arrest for burglary!
I have never EVER had anything to do with something like that. They said my DNA (taken as due to my caution) had been found at the scene of a theft of some SWEETS from a cafe. Yes they kept me in a cell for 4 hours to question me over the theft of some confectionery. Guess who was the custody sergeant while I was being held? The guy I was lodging the complaint against and again I was somewhat nervous as I sat there for four hours.
After this experience I dropped my complaint deciding it was not worth all the hassle. My last encounter with the police has just reinforced my feelings about them. I was at home revising for an exam on a Saturday night. My house mates had gone to the pub and left the front door open. Next I know a random guy walks into my room! He was obviously looking for valuables left by unsuspecting students. When I challenged him he mumbled some excuse and ran out the door. Again I called the police who turned up THIRTY MINUTES LATER and of course caught no one.
I don't want be my own personal bobby. I would just like the police to act with some semblance of professionalism and actually catch some real thieves instead of intimidating me. The lack of professionalism and bullying tactics I have seen being used by police makes me worry every time I hear they are being given more powers. Powers such as taking DNA samples without our permission, or to make an arrest when they SUSPECT a terrorist.
Before we have a choice in the matter, they are being given even more powers to "fight crime". We should remember who we are giving these powers to - not only the good natured trustworthy police, but also the bad cops who may use these powers to intimidate innocent members of the public.
By: Peter
Leave a comment