129 comments Add a comment
The introduction of 24 hour drinking in this country is a ridiculously daft idea. It will only lead to more trouble and more violence on the streets. With binge drinking running amok, some town centres will probably even become no-go areas at night.
The idea that this idea will lead to a continental style pavement cafe/bar culture where everyone sits around chatting quietly and peacefully, drinking beer or coffee or whatever through the evening and into the night is laughable.
I have experienced real thing in various cities in Europe. It is wonderful to be able to stroll around on an evening among the various bars, cafes and not feel threatened or intimidated by a bunch of thick drunken lager louts.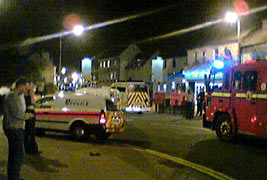 However, I am afraid the people of the UK are far too immature for this scenario. The British are (or at least a certain portion of them are), dare I say it, too brain dead to behave as civilised as that for more than a minute when there is alcohol around. If they can't drink until they fall over in a pool of vomit then they don't want to know.
Changing the law to allow 24 hour drinking in my opinion, is something that won't work and we will pay dearly for in the long run.
I sometimes feel very ashamed to call myself British. Well like it or not, 24 hour drinking is going to hit the streets, literally.

I would like to know what anyone else thinks about this.
Leave a comment