199 comments Add a comment
If there's one thing that really irritates me, it's the policemen and women in area patrol cars that think they are above the law. This seems to be the case all too frequently these days. Practically every week without fail, I see them pulling out of side roads into the path of some unfortunate and occasionally even in front of my car. No blue flashing lights and no apology!
I watched this happen to a middle aged man who proceeded wave his displeasure at the offending police car. Subsequently, the police car allowed him in front and flashed him to pull over. He was given a producer, despite having his license and insurance documentation in hand. They vigorously checked every detail of his car for faults and when his nearside fog light (in the bumper) didnt work (on a bright sunny day!), they informed him that he was in a dangerous car was required to have it fixed immediately. He complained at the station, but was given a lot of useless drivel - I know this, because it was my father! As it happens Im a mechanic so informed the police officers that the defective light wasnt a major problem and it would be fixed, at which point I was told to mind my own business and get back into the car before I was arrested for some law that Id never heard of before!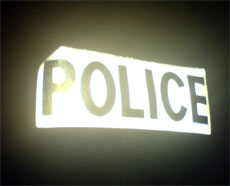 Recently I was driving along a winding road and met a police area car traveling on my side of the road at speed. It was on blind corner of a right-hand bend and he forced me to take evasive action by swerving into a lane. This resulted in me hitting the curb and the impact caused the wishbone on my car to snap rendering it unmovable. The police had slowed to crawl and after being told that I was in the wrong, they cautioned me for dangerous driving. My passenger who was witness to the whole thing agreed with me completely and yet her evidence to the case was discredited because she was wearing sunglasses!
One or two of my friends have had accidents with police cars and been blamed for them too despite being innocent. My point is that I cant stand being penalized by people with a god like attitude, causing accidents and getting away with it because of the uniform. It's just not on!
By: Annoyed
Leave a comment