70 comments Add a comment
I write this gripe with steam coming out of my ears. The courts in this country are an absolute joke and it appears to me that whatever crime the low life commit the punishment never fits. There is always some excuse put forward, "he had a bad upbringing", "he only did it to fund his habit" or "he or she was depressed at the time!"
I recently read a very disturbing article about two males who had asked an off duty police officer for a light and when he said that he didn't have one, they assaulted him and beat him so badly that he was in a coma for several weeks. Although he eventually woke up, this man is now in a permanent vegetative state and is unable to speak, feed himself, or basically do anything.
Judge thought original sentence was too harsh...
The offenders were traced, prosecuted and received a very fitting sentence (numerous years behind bars), however they appealed and guess what? They had their sentence halved by a judge as in his words "He thought that the original sentence was too harsh!" This police officer is now dependant on everyone around him for day to day care so how could the sentence be too harsh?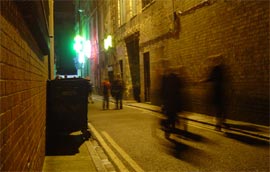 Another case was of a man who was beaten by two crazed men just because he was making a telephone call in the place where they wanted to take illegal substances. For his "crime" he received a broken eye socket, broken jaw and a fractured skull. Yet again they were put before the courts, but this time they were let off and given a supervision order because of the broken homes they came from and the fact that they needed help.
... judicial system cares more for the offenders
So from all this can we assume that the judicial system cares more for the offenders than it does the people affected by crime. I'm sure that if that person was a member of the judge's or magistrate's family then the sentence would be greatly increased. Why do I feel so strongly about this? I am a serving police officer and am so angry about the way the system treats people on the receiving end of crime. So much police time and effort is put into bringing the criminal to justice, just to watch them walk away laughing.
By: Wizard69
Leave a comment