490 comments Add a comment
I've just returned from a short holiday in Scotland to see my family and I have brought back with me a pocket full of Scottish currency. If you've ever tried to spend Scottish money in England you will probably be in a good position to understand my gripe.
The problem is the funny looks you get from the cashier at the supermarket, or from the guy behind the bar when you hand over your Scottish notes. More often than not, they hold it up to the light to check the watermark or scan it with a UV light, probably because they assume that its a counterfeit and you are trying to rip them off. The way they treat you almost makes you feel like a criminal. Why is it so difficult to accept that a Scottish bank note is actually still 'good money' in England?
It's actually really embarrassing, especially if you are standing in a long queue at the supermarket and it happens to be really busy that day. I know its quite irrational, but sometimes I actually dig into the wallet to see if I can find some English money to use instead so that I don't have to put up with all the hassle. Scottish money is every bit as good as the English equivalent and although no one has actually refused to take it, theres always that doubt in your mind. The thought that your cash might be refused just makes it a bit of an awkward situation
Hey John, are we still accepting this Scotch money?
Staff that handle money probably ought to be better trained. Although they don't see a Scottish bank note on most days, they should be able to easily recognize them for what they are valid UK currency!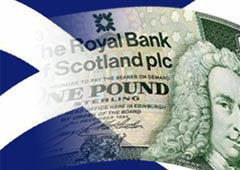 Perhaps they could also be shown how to handle the situation with a little bit more care and sensitivity at the same time. Yelling out to their supervisor down on isle nine "Hey John, are we still accepting this Scotch money? isn't exactly what I'd call subtle. So many times I've been so tempted to reply "Careful with that there lassie, I've just printed it for ye and the ink will be wet..." Fortunately though, good sense usually prevails and I wait there patiently whilst the supervisor wanders up to verify that money is okay.
Not everyone is quite so offish about our "funny money". In fact, the landlord at my local pub is quite a sport and I always make sure that I bring at least a few Scottish fivers for him! I know he loves to make that extra trip to the bank to change them!!!
Hey, It could be a whole lot worse though remember the old pound notes? Some of them are actually still in circulation in Scotland but they can't be used south of the border anymore.
Probably just as well because youd need a sack full of them to buy a pint of beer at our local but thats another story!
Leave a comment