5 comments Add a comment
Why do companies have to change their products when they work just fine as they are? This is a gripe for the shavers amongst us by the way so all the bearded ones can stop reading now.
Ive been using Tesco's twin blade, swivel head disposable razors for a few years now and I used to be very happy with them. I've tried all sorts over the years, from fixed head single blade, tripple blade disposables to the ones that take cartridges. I even used an electric razor for a period of time and to be honest I had mixed feelings about that particular experiment.
When I discovered the Tesco razor blades I thought I was on to a winner. They're blue and come in packs of ten and are pretty cheap. Also, for a disposable razor they give you a good close shave and you can use them quite a few times before disposing of them. Well that used to be the case up until a few months ago. They've changed their product you see and they're no where near as good as the old razors.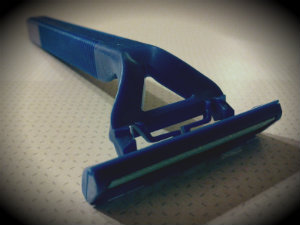 The new razors are a light blue whereas the old ones were a dark blue, but the colour isn't the problem. The issue I have with them is the fact that they seem to go blunt after only a couple of shaves. With the old ones I could shave for a couple of weeks before this happened. In fact with the old ones the lube strip would wear out before the blade!
Maybe it's time to try something else. Perhaps I'll go back to the cartridge system or venture back into the world of electric shaving. You know what it's like though, once you've found a product you like and one that works for you - you like to stick with it.
If only they wouldn't try to fix something that isn't broken. Or maybe it's a case of squeezing a bit more profit out by using cheaper steel!!!
Leave a comment