74 comments Add a comment
I went in on Monday after work to do my weekly shop and wasnt surprised to leave without having got everything on my shopping list. One thing in particular that they always seem to be out of stock of is Tesco Healthy Living Greek Yoghurt and many a time they have been out of Healthy Living Cranberry Juice. So this time I decided to visit the next day hoping that they would have replenished their stock but surprise, surprise, they were still out of stock.
When I was paying for my shopping at the till I mentioned it to the lady and she said I ought to make a complaint to the Customer Services desk. So I went up to the desk and explained to the lady that I really dont like to complain but am fed up that every time I visit this particular store that I am unable to complete my weekly shop and mentioned the obvious stock problems of Greek Yoghurt. She said that maybe they were having problems with their supplier. But I told her that I have never seen any stock of this particular yoghurt even though there is a clearly labelled space in the fridge for it. I found this strange because they always seem to have stock in the Tesco 10 miles up the road, so that wasnt really an excuse.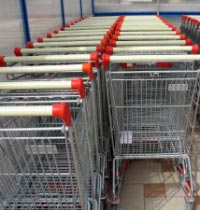 Another moan about my local Tesco is their pricing. I have noticed the prices slowly creeping up especially on one particular item, their Healthy Living Cranberry Juice. It has always been 63 pence for a 1 litre carton. Then one day whilst doing my weekly shop I noticed that it was priced at 83 pence. I mentioned this at the till and the lady said they did seem to be putting up their prices. When I questioned this at the Customer Services desk I was told that the price was correct and she didnt really give me a reason as to why it had gone up 20 pence in just a week. Now you can understand the prices of things going up a few pence but a whole 20 pence is just a bit much. Funnily enough when I went in a couple of weeks later the price had changed again, this time it was 73 pence.
Back to their stock issues, you can just forget going to Tesco on a sunny Saturday in summer to get your rolls and burgers for BBQs because they will always be out of stock. Youd think they would plan to have more stock when the weather looks set to be good.
Just what on earth do Tesco think they are playing at? One moment they dont have stock and the next they are creeping up their prices. I'm seriously thinking of doing my shopping elsewhere to be honest, at least Im more likely to completely my weekly shop in one go.
By: JenWren
Leave a comment