92 comments Add a comment
Why are people so thick these days? I was in Sainsbury today (which is always a potential warzone for me, particularly when I'm in a slow queue).
I usually ride to the shops on my Brompton fold up bike and won't leave it locked outside. So I usually get a huge family trolley, place a plastic bag on the bottom and place the folded bike on top. Then I whizz around the aisles to pick up just enough items to fit into my bike bag. Usually, the bag holds about 5-7 smallish items comfortably.
Then I proceed to the 'basket only' queue. Hence the gripe. So many people glare at me and tut...tut. One person actually turned round to me and said that I was in the wrong queue because I didn't have a basket.
Excuse me? I thought the whole point of 'basket only' queues was to speed things up for those with just a few items. Just because I use a trolley to load my 'basket load' of shopping into, that doesn't mean I am now doing a huge family shop.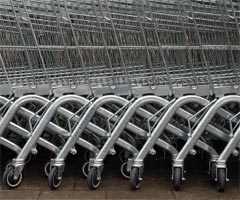 My fold-up bike won't fit into a basket
In case they hadn't noticed, my fold-up bike won't fit into a basket. It's inconvenient to drag it around by the handles on its wheels with one hand whilst loading goods into a basket in my other. It's also and too heavy to carry around for more than a few seconds.
Some people are so thick, aren't they? They take instructions too literary and fail examine the purpose behind the rule. Something I do all the time. If breaking the literality of the rule doesn't matter I break them - simple!
By: GrumpyOldWoman
Leave a comment