45 comments Add a comment
I am no conspiracy theorist. Nor do I own an anorak, but I feel it only fair to offer up to the public the opportunity to comment upon an insidious and growing problem. I have tried to come up with a collective noun that fits the bill, but could only manage one with a hyphen; Slow-People.
Where these people come from I have no idea. Perhaps they belong to some government department briefed to ensure diversity in supermarket queues. Invariably female, (yah boo to all of you who allow a sharp intake of breath at my boldness) these grocery agent provocateurs are meticulous in their obfuscation and dithering.
Not content with packing and repacking bags at the pace of an arthritic snail, these incredibly slow people will wait until they have completed the task to their inevitably high standards, before searching for a purse.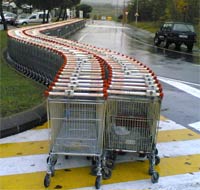 Cash will never be offered where a fistful of vouchers will do. This in itself introduces further delay, as often; the vouchers are no longer current or only apply to special jars etc. Oblivious of the grumbling in the queue behind her, voucher woman will trundle off around the store again, looking for the correct jam or whatever it is before returning with a smugly self-satisfied smile as if expecting applause to break out all around her.
In a society, which eschews violence I would hope good, decent people everywhere would agree that more should be done by supermarket designers to ensure peace in our aisles and a quicker, more pleasant shopping experience for all.
I suggest an addition to the Cash Only and Wide Aisle facility. I've even thought of a name for this new addition to the local supermarket, it's called "The I Don't Want to be Punched aisle."
Leave a comment