19 comments Add a comment
I was in our local Tesco yesterday when I noticed Princes Tuna in Spring Water was on offer. It was £3 instead of £5.39 so I picked one up along with a few other things. Anyway, I had a rough idea how much it would all cost and when I walked out I was thinking to myself that my shopping was a tad expensive. I took out my receipt and realised what they had done, they charged me full price for the Tuna. I didn't have the time to go back (I was half way home) and decided that I would simply return the next day for a refund.
The following day I went in and I first of all checked that the offer was on and that I hadn't made a mistake. I then went to the customer service desk and explained that I had bought Princes Tuna the day before and had been over charged because the reduction hadn't been taken into account. So the member of staff I spoke to went and got one of the shelf and scanned it.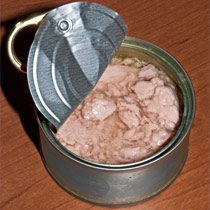 Needless to say it showed the reduced price of £3 and not £5.39 so they refused to refund me! If their receipt had shown something more descriptive than 'Tuna Chunks' considering they stock around 4 different brands it wouldn't have been a problem. Also I am pretty sure that it's the only tuna 4 pack that costs exactly £5.39!
So she told me to bring the pack back the next time for scanning. Well I won't be doing that because:
a) It's probably torn to shreds.
b) It will probably just show as £3 when they scan it anyway.
c) I cant be bothered!

Pretty poor show really. They know that I shop there pretty much every day so am unlikely to try and pull a fast one for £2.39! On principle I feel like I should try and locate the wrapper and go back but the likelihood is that it will be to no avail!
By: Steve L
Leave a comment