77 comments Add a comment
Shopping in supermarkets is becoming a little bit annoying these days as many of the supermarkets are allowing all sorts of groups and charities to have people at each checkout offering to pack your bag for a donation. Aren't they making enough in the charity shops and are brownies and scouts not making enough with their various club activities?
I am no skinflint and this used to be an occasional thing that wasn't a problem. Not these days though, they're there practically every time I go to my local supermarket and it's a different group every time. Are they on rotation or something? Some may say it is only a few pence they are asking for, but for some of us who are living on a limited income, a few pence every time they go shopping soon adds up to a few pounds. And yes you can say "no thank you" but then they look at you as though you are being unreasonable.
So you let them help you, give them a donation, and arrive home with your eggs packed under your bag of potatoes, tins placed on top of your fresh bread, and items of fruit and veg bruised and battered.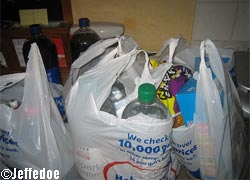 So basically you've paid for some well-meaning teenager to destroy half of your shopping. I think that supermarket chains should do away with this recent practice of getting charities and groups in to help pack shopping. Most of us are more than capable of packing our shopping without assistance.
Then of course, once we've escaped the checkout we're ambushed at the door as we try to leave by various companies offering to help reduce our electricity bills, take out a credit card with us, would you like to join such and such, motoring etc. I just want to go shopping and then go home in peace!
Leave a comment