57 comments Add a comment
The year is 2050. This large Gothic building on the Thames was once a proud example of Great Britain's heritage but now it has fallen into ruin.
A central hall, divided by a long, cracked table, has benches on either side, all covered in mildewed, faded green leather.
At the end of the hall is a large throne, bulging with threadbare cushions (one of which has burst open to reveal a wad of antique pound notes). The rain pours in through holes in the roof and forms puddles on the rotting carpet.
This building, once called The Houses Of Parliament and home to many a British government, is now dead.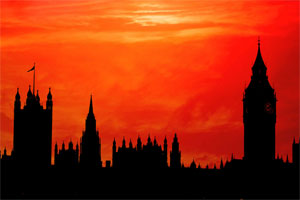 The British people eventually lost patience...
The reason it is dead is that the British people eventually lost patience with the greed and corruption exhibited by M.P.'s and they abolished the impotent institution. They finally realised that all the country's laws were now made by the EU and were simply forwarded to Westminster in the form of orders to be followed without protest.
A better system was brought in: a group of Civil Servants checked the EU laws for spelling and grammar and then forwarded them on to County Councils, who put the laws into effect. A few redundant M.P.'s were good enough to get jobs with the County Councils but the majority were last seen selling fish at Billingsgate.
The financial savings were colossal and Income Tax was reduced by nearly 5 pence in the pound.
My gripe is therefore simple: why do we continue to support and pay for this redundant Westminster Parliament?
By: Oracle2008
Leave a comment