67 comments Add a comment
You're probably all sick fed up to the back teeth of hearing about politics in the news and getting the general election rammed down your throat. Well so am I which is precisely my reason for this rant. What annoys me the most about it all is the political mudslinging that has been going on since the date of the general election was first announced. Over night all these billboard posters went up with each of the main political parties slagging off the other. Bear in mind that this has all come hot on the heels of the whole MPs expenses debacle.
Do they really think that this kind of behaviour is likely to make the voting public cast their votes in their direction? I think not. In my area it was the Conservative party posters that caught my attention (not that I would ever vote for them anyway). The Labour party isn't blameless either as we received a glossy card warning us of the imminent danger of not voting or voting for the Lib Dems and how this would ultimately mean a Tory government. I guess they're assuming that no one around here will be voting for the Conservatives then!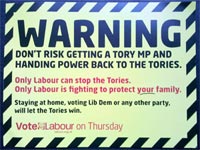 Also, in the last few weeks there has hardly been a day go by where some political pamphlet or letter hasn't been dropped through the door. By the way, these have mostly been from Labour and Conservative and some of them have been personally addressed to either myself or my partner. This is probably the worst kind of junk mail ever. More mudslinging and bold promises that will no doubt never amount to anything. They're also assuming that the voting public is to stupid to tune in to a political broadcast or have a look on a website. The cost of each of these direct mailings must be phenomenal and if we imagine for a moment how much the rest of the campaign must be costing the mind truly boggles. Where does the money come from? No, hold that thought. Perhaps best not to dwell on that one.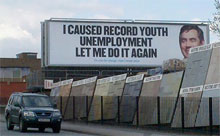 Actually, one particular political party has been rather silent in these parts. We haven't heard a peep from the Lib Dems. No posters and no leaflets through the door. I can't say I agree with all of their policies but they might just get my vote this time round and my decision would be partly influenced by the fact that as far as I can see they haven't resorted to any name calling and also there's the fact that they haven't bombarded with unwanted mail.
Besides, they couldn't possibly be any worse than the Conservatives or Labour... could they?
Leave a comment