28 comments Add a comment
eBay is now designed to protect buyers, not sellers in my opinion. Not only can buyers dish out negative feedback while sellers can only leave positive feedback, but it seems that buyers are no longer even obliged to pay up after an auction. Why can't sellers leave negative feedback? Surely this system is a bit one sided and buyers should be accountable too?
I have sold several items in recent weeks and have not received so much as a reply from any of the buyers. Two weeks have passed in one case and I have sent numerous invoices, but still no reply. Despite me saying in the ads that "immediate contact is required" and "payment appreciated within a few days", these buyers have remained resolute in their determination to remain mute. Courtesy and manners are indeed dead in the modern world.
It seems that nothing can be done, even though auctions have always been regarded as a legally binding contract between a buyer and seller,in the real world at least. There seem to be a lot of deadbeats with zero feedback trolling eBay who think it is fun to bid on items and win them, but who do not have any intention of paying for them.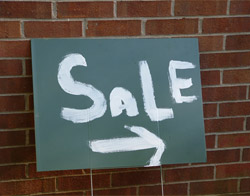 eBay needs to do more to protect sellers from these kinds of unscrupulous people. If they fail to pay more than once, they should be banned from eBay and have their accounts suspended.
eBay needs to do more to protect sellers
eBay continues to increase listing fees while failing to provide a safe and secure selling environment as far as I can see. Then, if you do sell you're item there's the 10% final sale fee and of course PayPal fees. As if it wasn't bad enough having to deal with all the time wasters you have to throw some of you're 'profit' back to eBay for the privilege. Honestly, it just takes the pickle!!! You'd be better off having a yard sale or giving you're stuff away to charity.
By: Sick-of-it
Leave a comment