18 comments Add a comment
As an eBay hobbyist, not a power or smaller business seller, I am furious with eBay whose over-egged buyer protection policy that is supposed to protect buyers AND sellers, insist on treating my successful bidders as retail customers who are entitled to a whole raft of consumer rights they wouldn't normally have when they transact with private individuals.
Whenever I sell a small item for a couple of quid or so the buyer need only issue a complaint to eBay claiming that they haven't received the item, or they did receive it but it was not as described (when neither is true), to stop my legitimately received payment from being transferred from Paypal into my private bank account. If I have already transferred the funds to my bank already, before sending out the item to them, PayPal can siphon it back and then withhold it from me in readiness to reimburse the buyer in full without my consent and without insisting that the buyer first proves on a balance of probabilities that I had defrauded them by not dispatching or sending out a mis-described item. Surely this is illegal? Even my accountant can't view, let alone raid my bank account, to forward unpaid taxes. So how come PayPal can treat my bank account as if it is their own?
Apparently it's not enough for sellers (hobbyists and retailers alike) to provide proof of postage to the buyer to show that they held their end up by sending out the item in the first, which is a reasonable enough burden to prove. No, they must also take responsibility for the item reaching the buyer personally. So if a buyer took possession of the item and they decide they don't want it, PayPal will still take sellers money to refund them in full. No questions asked. e-Bay never insist that the defrauding buyer should prove that they never received the item or that the seller refused to sell or send out the item after they received payment. A court would insist that they should to win compensation from another private individual in a civil dispute.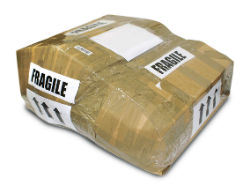 What about the law of unforeseen consequences? The postman nicked the parcel in transit, or there's a postal strike and the package got lost in the post, or the parcel was delivered to the buyer's address but it was signed off by a neighbour in the buyer's absence and they kept the package, or the buyer is not able to receive the package and the delivery docket the postman/woman shoves through the letter box is chewed up by the dog? Is that the sellers fault? Apparently it is according to eBay and PayPal, their embezzling sister arm. Should occasional sellers be responsible for delivery when they can't control post office actions, even after sellers clearly stated in their eBay listings that they are sending the goods 1st class not by special delivery or registered post intended for high value items? I think not.
Furthermore, sellers can't send goods by securer, more expensive parcel traceable methods because the additional postage costs for special delivery or registered post would outweigh the maximum they could charge for P&P on the item and that these constraints would leave sellers with insufficient surplus P&P to cover the cost of paper wrap, jiffy bags, parcel tape, bubble wrap and so on. These things cost money, they don't grow on trees. eBay fees and PayPal transaction fees, stationery costs and now traceable higher parcel postage costs to prevent defrauding buyers from cheating sellers would simply wipe out any profit entirely. They may as well trundle down to Oxfam and dump their old stuff there.
Given the number of complaints on similar issues I read, isn't it time disgruntled eBayers signed a petition to give eBay and its distortion arm PayPal one hell of a boot up the backside with a class action for general and punitive damages for withholding funds and raiding private bank accounts to extract legitimately obtained payments and also for flouting the fundamental constitutional principle that resides with all western jurisdictions that assumes that a defendant is innocent until proven guilty? I think it is.
Leave a comment