5 comments Add a comment
Why don't I learn? I recently auctioned at 0.99 start price and then sold (or so I thought) for about £50 a wonderful used 12 year old The Bridge leather bag ' as photographed ' which looks great worn and still functions well. The buyer had not asked me questions or asked for more photos before bidding. She also seemed, judging by her forum name, to be in the marketplace to re-sell the same brand bags as the one I was auctioning, simply as an occasional attic clearer. But after winning the bag, she didn't pay for a good while. She appeared to have ducked out of her obligation to honour the payment after changing her mind. So I contacted her and after getting no response at all, I reported her to eBay to prod her into paying me. She did soon after via PayPal and then the fun began...
After she received the item she made no complaint to me, using the eBay messaging system. I simply got unexpected Neutral Feedback from her, along with a message from eBay telling me that the buyer had told them that the item was misdescribed. It wasn't and messaged her as to why that was not so. After that, she decided, via eBay not direct to me, that she wanted a refund, which she hadn't asked for initially, which jibes with her neutral rather than negative feedback.
Had I misdescribed the bag? No. I have plenty of satisfied buyers of my attic clearances, including a few since this saga began. I put an honest advert up for any buyer intending to wear the bag themselves. It is not for me to second guess buy-to-sell marketeers more scrupulous criterion for reselling at a profit. That is their risk, not mine. The bag still looks great worn; there are no holes, no unsightly marks on the inside or outside and any signs of wear are minimum and don't show up when the bag is worn. A close examination - simply with a view to resell the bag immediately at a profit - might have meant no resale profit. That I will admit to. But is that my problem?
I then got an eBay message giving me a chance to settle things with the buyer (which translates to 'refund her' or else..) before she escalates the issue to Customer Services. I wrote to this buyer about 10 times, via messaging, and I also asked her to return the item for examination, and awaited her response each time, which was... waiting... waiting... waiting... waiting... waiting... waiting... etc. Nothing.
...she had escalated the complaint to the eBay Resolution Centre
The next thing I knew was she had escalated the complaint to the eBay Resolution Centre. I then pointed out to eBay Customer Services, in my case notes, that I was having none of it. She was a scammer trying to get a refund from me and keep the bag, which was probably sufficiently but accurately described as flawed enough not to make her a resale profit ' as she'd hoped she would do, but was every bit worth what she was willing to pay as a wearer of the item. By exploiting eBay's BPP, she could still sell it at a reduced price from what she'd paid and still profit overall - with a refund too. A scam if ever I saw one. Meanwhile I was to either compromise my reputation and/or lose my money and the bag too in order to help her do that... Like hell...
Did eBay agree she was a scammer? What with no communication either before or after the win; no attempt to send the item back after request; no attempt to question the item in the first place before leaving neutral feedback? All red flags? Of course, I was unable to feedback on her ghastly behaviour by leaving negative feedback, so she still has a glowing 100% positive feedback, runs a business off the back of attic clearers like me and tries to screw anyone when she realises that a profit is unlikely to materialise if she leaves honest positive feedback for properly described 'used' items based on adverts aimed at wearers not resellers.
eBay Resolution Centre simply decided in the buyer's favour...
I wrote to eBay Resolution Centre explaining that I would not refund this buyer. I also pointed out that she had made no attempt to initially pay me and even before getting the item she'd' made no attempt to communicate with me to settle the matter before eBay were involved, no attempt to send the item back to me either. Enough for the Resolution Centre to rule in my favour?
Red flags anyone? Hello? Hello?
The result was that eBay Resolution Centre simply decided in the buyer's favour. No explanation as to why they arrived at that decision either. It seems a purely business one to me: they make more out of her bag resales ' resulting from screwing mugs like me, in all account, than they do out of my occasional attic clearances. So I was screwed... not her!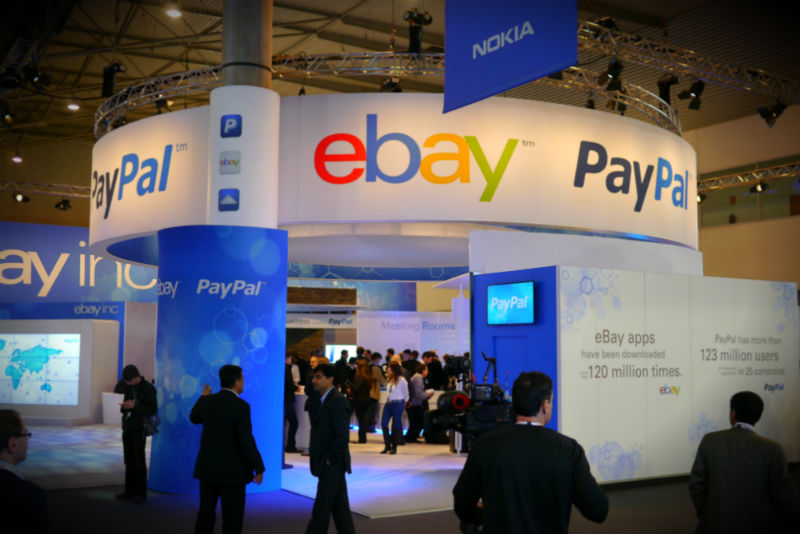 ...er...not quite..
Well, I have news for you sunshine (I mean, all you luvverly jubberlies at eBay Resolution Centre). I withdrew all money from my PalPal holding account before you could freeze it 'as you predictably did, which is now in negative balance. I have closed the connecting bank account and withdrawn all the monies in that account too by transferring it into another untouchable account to prevent you from raiding it. So if you want to refund this scammer yourselves after ignoring all of my arguments and the evidence that shows what a prig this buyer is, then you can by all means do so - but you do it with your own money not mine!
The beauty of this story is that they won't find out any of this until the buyer has sent back the bag to me 'a condition the eBay Resolution Centre's imposed on the buyer before I am apparently 'obligated' to refund her the money. When I don't get my bag back (and even if I do get my bag back ' even if it is not damaged at all) I have absolutely no intention of refunding her the money.
So, I will have kept the money she paid and got my bag back too. Hows that for victory? I know enough about UK law on auctions. You buy as seen - the law is clear. No buyers protection policy can change that and eBay are not courts of law and I'll be darned if I will let some tinpot eBay Customer Service rep act as judge and jury when all they can see is pound signs dangling under their noses. They forget that sellers, even attic clearers are their customers (as I was in this case) who pay them a fee to advertise. How dare they act like some kind of judge in court. Plus I have all the evidence I need to fight a small claim to show eBay failed to adhere to their own policy, to consider the evidence properly and make an impartial decision based on the facts and UK law. That is all this buyer is going to get from me after I get my bag back (if I do). She'll get a Letter Before Action if she fails to return the bag; damages it if she does return it, or I will defend any action she takes to get her refund. If eBay shoulder her payment then she won't profit at all. She will merely get no more than she started with.
I call that a result, don't you?
Grumpy xx
Leave a comment