41 comments Add a comment
I am an eBay seller who occasionally sells designer items of clothing. eBay have recently changed their policy that certain designer items cannot be listed for any less than 5 days. Then, for some strange reason they don't even list it as soon as you press the "List Item" button! So you are paying for a 5 day listing through no choice of your own and not even getting the full five days that they are forcibly charging you for.
Try selling designer handbags on eBay ... listing removed - copyright violation?
By the way, I listed three items this morning at 6am and they still haven't been listed for public viewing this afternoon at 2pm. Also I am still waiting on a response to my complaint from their so called "customer services" department!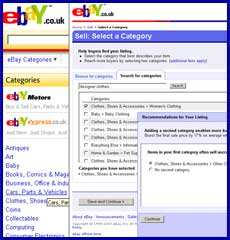 Another thing, try selling designer handbags on eBay another nightmare. They keep booting them off saying copyright violation, even though I don't mention a designer name. I use my own pictures own word to describe and they still won't allow it. Try to complain and ask for details and they come back with a vague response with no details because if they give details someone might be able to beat the system so they claim.
The worse insult is I bought the bags off a eBay, so I guess okay for someone else to sell me but not okay for me to sell again. I have have had just about enough of eBay, if your item is booted you have to write for permission to re-list it but they don't tell you that you have to figure it out for yourself. Nothing is easy with them, contacting, getting a response or understandable explanations.
What they need is some good stiff competition from another auction site that is good and responsive.
By:Tippyairi &amp Tiredoftherunaround
Leave a comment