91 comments Add a comment
The people who manufacture razor blade refill cartridges have quite literally got us by the short and curly; with expensive replacement cartridges and incompatible fittings, its enough to make you quit shaving and grow a beard.
The problem is, when you give up on disposable razor blades and opt for a handle and cartridge system, youre stuck with buying replacement cartridges for that particular handle. That might sound straight forward, but when they have a range of similar products it can get quite confusing and mistakes are easy to make.
To give you an example, I have a Gillette Mach 3 razor handle which I have been using quite happily for some time. However, the other day I decided it was time to pick up another replacement pack of blades. I went to the supermarket and unfortunately was in a bit of a hurry so I picked up the Gillette Sensor 3 blades instead of the Mach 3 ones. Im willing to bet others have done the same the packaging and branding is very similar. I didnt spot the difference until the next morning when I went to use them, but I figured theyre all Gillette so they should fit.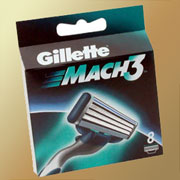 Well how wrong was that assumption, of course they didnt, not even close. I wouldnt mind, but I had an uncomfortable shave that morning and Ive now got a pack of blades that I cant use as I am not about to go buy yet another handle.
You can get cheaper unbranded replacement cartridges for some shaving systems, but quite often the little diagram on the back of the pack which shows how they clip on is often difficult to discern. Why cant they just make all razors and handles with the same fitting? One would presume that this is so that you are forced to buy your replacement blades from THEM and no one else.
Leave a comment