62 comments Add a comment
Every morning I take a shower and like most guys we tend to shave in the shower. Its just more convenient than standing at the sink later on to do this. So I get out the shaving gel and the razor blade and begin to shave after first of all giving my face a really good soaking with plenty of warm water. As Im sure you boys know this helps to soften the bristles and helps the blade make a clean cut.
Blades that end up becoming blunt after three days
However, more often than not I will finish the shave with a 'nick' or two or sometimes three. This is normally due to blades that end up becoming blunt after around three days of use. Or even more incredibly its because i have had to change my brand of shaving gel!
To get a very close comfortable shave one really needs a new blade every day. But the cost of blades are one of the most extortionate outrageous 'rip offs' one can imagine. Four measly blades for around 6.95! Theyve got us good and proper because lets face it, a lot of people prefer to shave every day.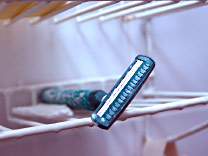 As far as electric shavers are concerned -forget it. They are completely hopeless when it comes to a close shave. Ive tried all kinds of electric shavers, from the foil type to the rotary head and none of them give as close a shave as a wet shave.
More often than not when I started with an electric shaver I would end up having to finish with a disposable razor, just to get that really close shave.
Why dont we all just grow a beard and be done with it. This would save so much angst!
By: Skeptic Phil
Leave a comment