69 comments Add a comment
We all have had to use a public toilet (restroom) at some time or other and have probably come across an example like the one in the film Trainspotting aptly named 'The worst toilet in Scotland'.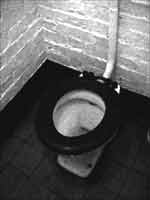 However in this article I hope to show you that even in the cleanest public loo there is a serious design flaw that even if it isn't a health risk, is guaranteed to turn your stomach if you think about it too much.
Doors usually open into a room and this feels right and has always been the way. For example you walk into your house through the front door and you generally open a door and walk into your bedroom. The door on your toilet quite often swings inwards as well, although this is not always the case as my one has to be opened and that brings me right to the point that I am trying to make. How many times have you used a toilet in somewhere such as a pub or restaurant and observed someone else walk straight out after doing their business without stopping to wash their hands?
I can't speak for female toilets, but this happens quite regularly in male toilets and especially in the toilets that are in pubs and this level of poor hygiene is simply disgusting, there's no other way to describe it. Just imagine the germs festering on the handles of those doors, it doesn't bear thinking about!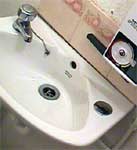 But what bothers me most though is that the doors to these toilets are quite often of the type that you have to push to go in and then pull with a handle to leave. This doesn't make much sense to me as it means you have to use the same handle that someone who may not have washed their hands has just used.
Toilet door handles should be on the opposite side
Wouldn't it make much more sense to have toilet doors work in such a way that you could pull a handle to go in and then push the door to exit, thus avoiding contact with door handles?
I'm not sure how feasible this would be and I suspect there is a good reason why things are the way that they are but it's just something that really bothers me.
Leave a comment