45 comments Add a comment
Long ago, back in the 60s and 70s, you could go into a shoe shop and find something that was actually comfortable. A large number of them used to do shoes in half sizes. Nowadays, it's really hard to find shops that stock these. Why? Have our feet magically changed so that they are now whole sizes?
No, of course not. It's just that half sizes are inconvenient for the manufacturer. They would much rather we squeezed our toes into shoes that were slightly too small. Or flopped about in ones just a touch too big. Eventually, we get fed up, donate the shoes to Oxfam and buy a new pair.
The other thing I notice is that most shoes seem to just have a piece of elastic at the front to hold them on. What happened to proper straps with actual buckles? They actually stayed on and were comfortable.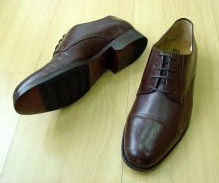 Now, with this elastic thing, you have to clench your toes to keep the shoe on and you end up with bunions. Again, it's shoe manufacturers trying to save money.
And have you noticed - when you put the shoes on a flat surface like a table - the toe part doesn't lie flat? It sort of curves up. Not really comfortable to wear, yet again. If I want to look like a medieval jester, I'll buy the red and yellow cap!!
So, what's going on? I find that the only place I can get shoes in half sizes is the USA. So, you end up paying shipping costs. ('m tired of never having a decent pair of shoes. I wish the shoe manufacturers would improve their designs.
By: Fedupinwales
Leave a comment