76 comments Add a comment
I have a gripe with Amazon. They pride themselves on offering good customer service and offer the facility whereby past customers of items can leave 'feedback', thereby offering some measure of protection to potential customers. However, beware, all may not be what it seems. Amazon are able to 'suppress' customer feedback that is unfavourable to the seller, and they do this without informing the customer. With a simple click of a button, the feedback is removed and the customer - like myself - is left feeling disempowered and bitterly disappointed.
I recently ordered a USB car-charger for my TomTom SatNav, and what was sent was effectively a 'piece of junk'; it was not even the same item that was displayed in a picture by the seller on the Amazon website. I duly left feedback about this - very matter-of-fact, non-abusive feedback - that was, of course, very negative. I received emails from the seller trying to get me to remove the feedback, even to the point of trying to bribe me to do so. As a matter of principle, I resisted this, thinking that I was being a good customer by allowing my feedback to warn future customers that there money would be better spent elsewhere.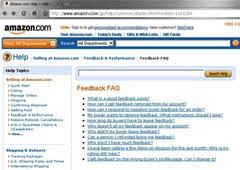 ... removed my feedback without even informing me
However, Amazon decide to stoop to the level of the seller, they removed my feedback without even informing me, or giving me any chance to amend. When I eventually found out, they just quote 'policy' at me that effectively said that the feedback could only be about the performance of the seller, rather than comments about the product itself. Uh? Does that make any sense? The fact that the seller was selling a piece of junk, and that it wasn't even what was advertised on the Amazon site, seemed to be irrelevant to Amazon! Crazy!
So, Amazon is yet another well-known company that essentially fails in its promises and only leads what best can be described in one word. Disappointment!
By: Shropshireman
Leave a comment