20 comments Add a comment
Shopping online drives me absolutely crazy! It seems the larger and more expensive the item, the better the customer service, yet with smaller items there just doesn't seem to be the same level of customer care.
I am hosting a party at the end of next month, and I thought it would be nostalgic fun for all guests to leave with an old-fashioned party bag. As there is a theme to the party, I have shopped for certain items specifically with that in mind...
Of the eight UK online shopping suppliers I have bought from:
One supplier sent an order that was twenty short of the required number of items.
One sent the wrong items altogether, contrary to both my order and the despatch note supplied with the parcel. No explanatory phone call or note. The same supplier has also taken the longest time to despatch, and when I rang to complain, an automated message explained the business was closed for annual leave until July 31st.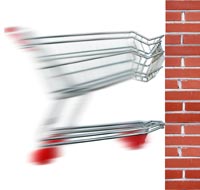 One supplier levied an express charge of 30: items were ordered two weeks ago and are not needed until the last week of August - this seems a trifle excessive.
Another supplier phoned today: the items are out of stock until the second week of August. Again, I had ordered these two weeks ago.
And yet all these online shopping companies are supposedly accustomed to dealing with bulk and wholesale orders! I know there are always extenuating circumstances, but I do feel sorry for anyone trying to run a business that is dependent on companies such as these.
Leave a comment