31 comments Add a comment
So size isn't everything? Well it is when it comes to pedestrians. As a pedestrian, I've realised recently that I just don't count. So many times I've been forced off the pavement and on to the road by people who insist on parking on the pavement.
Worse still are those who park there and then suddenly decided to drive off onto the road again without giving any signal at all. Scary for the poor pedestrian who is trying to sidle past between the car and the wall. Sometimes it's necessary to resort to limbo dancing to get under the wing mirrors and what do you do if the passenger decides to open their door onto the pavement without looking?
teenagers who block the entire pavement ...
Then there's the gangs of teenagers who block the entire pavement and force you into the road. I stood my ground the other day and refused to be pushed off and I got a sarcastic 'Oh, was I in your way?' as I negotiated my way past them. One their own this probably wouldn't happen, but when there's a big gang of them they think they're invincible. Perhaps it's the way they were brought up (that's another gripe).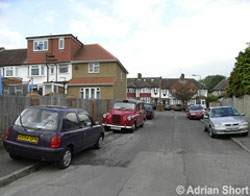 Then it's off to the supermarket where someone with a basket is invariably bullied by those with a trolley, the bigger the better for some, it seems. They don't seem to even see you, just knock you out of the way as they barge down the aisle. Again, it's all down to size and if they're bigger than you then you just don't matter.
I choose to walk to save money and it's good for the environment. However, the way I'm constantly pushed and shoved around as though I were invisible is making me think twice. I'm often tempted to buy one of those huge, petrol-guzzling four door Landrover monstrosities and then I can be the bully for a change!
By: Paula pedestrian
Leave a comment