30 comments Add a comment
There is potentially a very bright future out there for personal transport that doesn't rely on petrol, diesel or chip fat to power the engine of your car. So where is it and why are we not using it then?
Well the truth is people love their petrol engines because they're cheap (reliable?) and they don't cost much to buy or run. Throw in the fact that alternative power sources for vehicles are expensive to buy, more complicated to refuel and generally are seen as inconvenient compared to the internal combustion engine. You basically end up with a one horse race and we all troop off down to the nearest BP or Texaco to fill our tanks, swearing and complaining as we're forced to practically empty our wallets.
The oil companies and the retailers are happy, they've never had it so good. The government is happy because they're raking in the fuel duty (see earlier gripe) and of course the car manufacturers are probably quite happy churning out new and ever more efficient (?) cars. But are you happy with the way things are? Do you get a warm fuzzy glow when you fill up at the petrol station in the morning, knowing full well you'll probably be paying even more for the same amount of fuel next week? You probably don't think much about the pollution and CO2 emissions, but that's not what this gripe is about so we'll ignore that for now.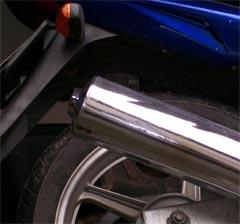 As I said earlier there are alternatives out there but people just aren't interested, either that or they just didn't know about it in the first place. I can't in all honesty believe that the average consumer has deep enough pockets to go for an alternative option and there's also the fact that the infrastructure just isn't there never mind the cars. Who wants an electric car that costs five times as much as a petrol car and only goes a fraction of the journey before needing a recharge? Who wants a hydrogen or fuel cell car that you can't refuel at any old motorway service station?
Well it's coming, and one day you won't be able to run your car on petrol or diesel. Maybe it will be a case of you can't afford to run it on petrol because it's too expensive. These alternative power sources have slowly been evolving over whether we want them or not. Battery and fuel cell technology for example has made a rapid amount of progress in the last few years. More efficient motors, lighter and stronger car chassis, regenerative braking, ultra efficient solar cells and wind turbines for recharging at home. All this and more is already out there and it keeps getting better and better. Hybrid cars are a good start and could prove to be a good stepping stone to wean ourselves off oil once and for all.
If you're daily commute was less than 50 miles a day and you could by an alternatively powered vehicle complete with a renewable or cheaper means of recharging it. If that same vehicle cost about the same as a petrol car, would you go for it in a heartbeat? So let's talk about it, let's think about and and finally, let's do it!
By: Electric Sam
Want to find out more?
Wikipedia - The Electric Car
Who Killed The Electric Car? and on YouTube
EV Network UK - directory of electric vehicle charge points in the UK
Electric Motorcycles and Scooters
Electric motorcycle conversion - a YouTube demo

Amped Bikes - this is a must see, very low cost easy to fit hub motors. Check out the videos!
Leave a comment