28 comments Add a comment
Isn't it annoying when you buy some cheap batteries to use in something such as an electric toothbrush or your optical mouse; you use it for a few days then suddenly, it just stops? You then discover that those inexpensive batteries you decided to use recently really aren't up to it.
I have found that this usually happens when you buy the really cheap ones, for example the strips of 20 or 30 batteries that you can pick up for a couple of quid down the market. You could arguably say, what else do you expect for that price, but I just don't see the point in selling batteries in bulk and cheaply when they hardly last any time at all. I suppose theyre okay for things that don't use much power such as a remote control or maybe a wall clock. Don't even think about using them in something with any sort of motor or light though because they just won't last five minutes.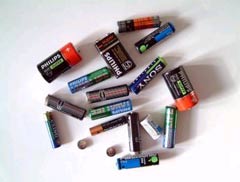 This is probably a classic case of you get what you pay for. From now on Ill be sticking to the familiar trusty old branded batteries such as Duracell or Ever Ready. They cost quite a bit more than the unbranded cheap stuff from the market, but at least you know they will last. In fact, I noticed that when I changed to Duracell on my electric toothbrush, it had a whole lot more oomph than with the cheap batteries. It remains to be seen how long they will last, but Im pretty sure that at least I won't have to change them before the weekend.
With Christmas just around the corner, heres some good advice. Don't be tempted into buying strips of cheap batteries from the market for the kids toys. Get some decen't ones that are guaranteed to last because little Johnny won't be too happy when his flashing laser gun doesn't make it to the 100th showing of the Wizard of Oz!
The History of Batteries - If you ever wanted to know what batteries are made of and how they came about there's a timeline here and a wealth of knowlege.
Leave a comment