49 comments Add a comment
Everybody seems to be moaning about the prices of petrol these days and why not? Especially as Shell and BP have just announced profits of over 7 billion pounds between them in the first three months of the year. Their shares are soaring too and one could perhaps be left feeling a little peeved when you filling up your car in the forecourt.
Personally I've never seen petrol prices this high and I can remember a few months back when we balked at the prospect of paying anything over a pound for a litre of unleaded petrol. If you can find your fuel that cheap now you're really doing quite well because it's averaging around £1.08 at the moment. I've seen some places selling it at £1.12 and more. But who's really to blame in all this? Is it the oil producers, the oil companies or is it the retailers?
Well I suspect all of the above to some degree. Costs have to be met and of course the good old laws of supply and demand kick in and when supplies are erratic (as they are in some areas right now), then of course the price increases get passed for the most part on to the consumer (that's you and me in the forecourt). However there's one large and and very difficult to ignore portion of the real cost of a litre of petrol. That would be the Fuel Duty, Petrol Tax, Gas Tax.. call it what you. Of course there's the VAT that's added on as well. All of which goes straight to the government every time you fill up.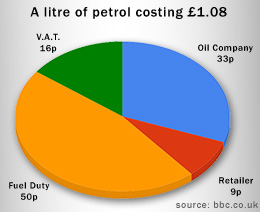 In fact more than half of the cash you hand over to the retailer goes back to the government. Still feeling resentful towards the oil companies and retailers?
The greens would have you believe that the fuel duty should be even higher because that's the only way to convince motorists to use less petrol and respect the environment etc. Well that isn't exactly going to be a vote winner now is it? Especially as we're sliding towards a recession and most people are already starting to feel the pinch thanks to over inflated house prices, price hikes for food, alcohol, cigarettes and other goods. Then there's all the various forms of tax, some quite obvious and others not quite so transparent! Can we really go on swallowing one price increase after another for our fuel knowing full well that most of it goes to the government, especially as there quite often isn't a viable alternative to taking the car. Just check out the bus timetable or the cost of buying a train ticket if you don't believe me.
It's about time things changed. Either cut the duty on fuel to a sensible level and/or invest in better public transport and alternative non petroleum-consuming technology. Ideally a bit of both because we will need to free ourselves from the dependency on oil eventually, and probably more importantly as far as the government is concerned, Joe Public won't have forgotten how much lighter his wallet is when the time comes to go and vote.
Leave a comment