212 comments Add a comment
I have owned the car since new and always had Volkswagen carry out all servicing and maintenance. I have the same old loss of power problem reported by others. It has recently been loosing power whenever it gets up to 70 mph in 4th or 5th gear, usually when overtaking.
Do these symptoms sound famliar?
Add your comments to the discussion forum
If engine switched off and on again, it goes back to normal (until next time). The car has also suffered from serious problems starting when cold (Usually takes 20-30 seconds!) The fault started shortly after a regular service at the Volkswagen garage. It has been back and they replaced air mass meter (which I paid for). Unfortunately this did not solve the problem. They then replaced the air mass meter again with a different one - still no good.
the dealer admitted that they didn't know what the problem was or how to solve it...
The next likely candidate for the problems was a solenoid valve on the exhaust flow. That didn't fix the problems either. Next they tried another electronic sensor linked to air mass meter. Guess what? Still the same problems!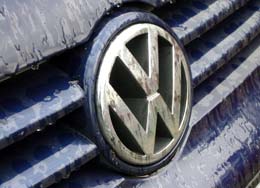 They did a full day diagnostic on the turbo and said there were no faults there and that it performed well. In total there were seven opportunities to fix the fault and they failed every time. I even drove it to the garage in this state for them to plug in the VW computer which again identified a fault which had already been dealt with twice before.
The dealer admitted that in all honesty, they didn't know what the problem was or how to solve it. He said I wouldn't have to pay for the further work since they hadn't resolved the problem.
I have now put up with this crappy VW Golf for 3 months and learned to never try overtaking. Out of the blue I received a bill for nearly 500 on top of the first bill for unnecessary work. Lesson - My VW Golf 1.9 GT TDI (110) is a pile of rubbish. DON'T believe people when they praise their Volkswagen Golf! The car is too complicated even for their "so called" experts to fix and parts and labour are stupidly expensive.
I am going back to my Ford Escort - 230K miles and still going strong; oh and cheap to run with the advantage that I can fix it myself if it goes wrong.
By: Paul
Leave a comment