17 comments Add a comment
I feel like my boss is bullying me, not all the time but probably 70% of the time. He's an elderly man in his 60s and is very set in his ways. He's not used to all the modern technology and quite frankly I don't think he really understands it.
My boss is constantly making me write things out by hand that can be pulled off Sage as a report. He is always nit-picking and he expects his employees (not just myself) to be able to read his mind. When trying to explain things to him regarding work, he won't listen and will often interrupt. Apparently he's 'right' even when he is wrong!
There have been a couple of occasions where he has upset me so much that I have cried and on the last time that happened he said "I'm sorry for upsetting you, but you started it", and then continued to lay in to me again. It's very unprofessional and all this happens in an open-plan office in front of all the other office staff! There are many other examples but I will try to keep this short.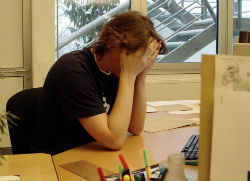 Here's the problem, it is a very small company I work for and there is no HR department. There is only one person to do each job if you know what I mean, so the Director is everyone's direct manager - so who should a complaint be made to? Also, I am 7 months pregnant and so have no option of looking for another job. My partner and I have financial commitments (paying our wedding off) until July, so walking out wouldn't be an option, even though I am sometimes very tempted to.
I have always shown willing within my job and I have even worked from home when on my annual leave. I came in over Christmas to sort something out that he had upped and left when he went to his villa abroad for a month. I am even taking minimal maternity leave so as not to cause the company too many problems etc.
My question is, how can a boss, or an employer for that matter get away with treating staff like this and is there anything I can do? I feel like I'm stuck in a ridiculous situation with no way out. Any advice would be welcome please.
Leave a comment