205 comments Add a comment
I recently attended a gala day in the town where I grew up. You know the kind of event that all the locals attend with parades, fairground rides and stalls etc. It was nice to get back home for this as the town (more of a village really) was celebrating its 50th Gala day and my sisters were running a stall.
I had a great day all in all, but one thing that still bugs me and its something I have noticed before at other events such as this. Unless you have the foresight to take along some food and drink, you end up buying snacks at these burger vans and mobile catering places.
The thing is they charge an arm and a leg and I think that its just a complete rip off. I had already decided that as we were attending a barbecue later on that evening I would just have a small snack to tide me over. A quick look at the menu and I thought that a tray of chips would be nice.
Burger Vans a complete rip off ... how do they get away with this daylight robbery?
Guess how much I paid and what I got for my money? Two pounds for a ridiculously small tray of chips that probably contained less than one whole potato! They were charging three pounds for an unappealing greasy cheeseburger that probably would have been gone in a couple of mouthfuls anyway. Just who do they think they are kidding and how do they get away with this daylight robbery?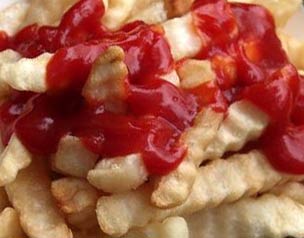 That was bad enough, but you had to be extremely careful or you would loose the measly portion. The tray was so small and flat that any chips lucky enough to be perched on top of another one tended to roll off and fall to the ground.
No, I'm afraid I don't think the burger vans and the mobile catering facilities at these events really serve up value for money! I usually try to avoid them if I can. Next time I will MAKE SURE that I bring my own food with me.
It was kind of amusing that the DJ who was providing the music for the afternoon kept announcing that "It was happy hour at the burger van". He quickly followed this up with "The food isn't any cheaper, but at least they now serve you with a smile!" Very appropriate I thought. More like a sly grin because they know they have you over a bucket of chip fat!
Leave a comment