24 comments Add a comment
I don't consider my self to be someone who is paranoid about privacy, but if I do share information for example when setting up a profile or an account with a website, I expect to be able to remove that information completely at any time I choose.
Facebook has received a lot of criticism for this in the past with users finding that their profile is simply deactivated and not actually deleted. The specific instructions on how to actually irreversibly delete the profile weren't obvious and users had to scour around to find out how to do this.
Facebook is just the one that everyone knows about there and it's just the tip of the iceberg. As I don't have a Facebook account any longer (I hope), I can't actually verify that's still how things work there.
There are a lot of websites that allow (or require) you to set up user account or profile in order to use their services. Getting that profile completely taken down at some point in the future though can be a less than straightforward process. I have recently experienced this with a site called People Per Hour. I very quickly decided that I didn't want to use the service but couldn't actually find any way of deleting my profile. I had to contact the site to find out how to "deactivate" my profile.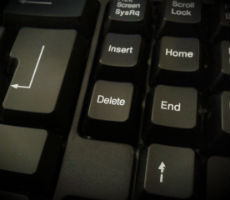 Apparently the process didn't delete the account, but I could remove all information and only a record of someone with my email having had an account there would be left. I have since requested via the support pages that that record be removed also. We'll see what happens... [update: they deleted my profile, but I had to request that this be done]
Why do some websites make it so difficult for you to remove your profile and all associated data - COMPLETELY? It's something that just strikes me as a little bit dodgy and underhand and I'm willing to bet that some sites have a bit of small print in the terms and conditions regarding the retention of some of your data.
Where do you stand legally in these cases? Can you force them to remove all traces of your account? Who reads the Ts & Cs that thoroughly though? Perhaps we should in future, but I don't think that it's right though. I think that sites should be up front about what will keep and how you can deactivate or DELETE your profile or account. It's yet another 'trick' for us all to be on our guard for!
By: It's my data!
Leave a comment