11 comments Add a comment
Adobe Flash websites, assuming you actually are lucky enough to stumble on them via Google in the first place have got to be the most annoying websites ever because they often take a while to load. Back in the bad old days we were forced to wait patiently to enjoy a website in its full glory because we were all on dial-up and it just took ages to load the most efficient HTML page. Yeah, really... it was very, very slow. I expect all you younger ones who have grown up with broadband all your life can't even imagine what I'm talking about.
a progress bar slowly creeps across the screen
Anyway, now we're all souped up and have wizzy fast connection (TalkTalk customers need not apply) and yet we're still forced to sit and wait patiently (or not in my case!) whilst a progress bar slowly creeps across the screen albeit in a slightly different position to where we used to see it. You'll then be amazed and blown off your chair by the technicolour wonders and delights the likes of which you have never seen. Errr.. maybe, if I can be bothered to hang around that long that is!
Actually, many of websites built with Adobe Flash are a bit tiresome and basically do no more than can be achieved with a little bit of CSS and Javascript or that stuff they used to call DHTML (dynamic HTML). Fancy names for making use of something that's already built into your browser. Okay, not everything can be achieved in this manner and some of the flash sites out there really are clever and in my opinion worthwhile. But at the same time, the majority of them are NOT worthwhile; they're just overloaded and slow for the sake of using Flash. Some designer out there has it in is (or her) head that this is the only way to do things and what they don't realise, is that it really screws with the end user experience.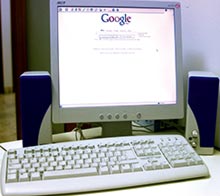 Anyone remember the two second rule? Basically, you have two seconds to present your page or your finished. Let me explain. If you've ever watched a first time Internet user as they go to click on a link to a website they actually suck in a breath and hold it as they click with the mouse. So if your page takes too long to do something useful you're gonna be responsible for someone passing out through lack of Oxygen. Think about it!
I really can't be bothered waiting
Okay, it's not all bad though because some flash websites give you the option of viewing a plain HTML version or skipping the fancy intro. This goes some way to pacifying me I guess. Many of them do not however and you're forced to either wait... wait... and then wait some more for the final anticlimax, or you do as I do and hit the "back" button as soon as I get a sniff of a "loading..." message.
I really can't be bothered waiting. I'm a little bit impatient I suppose. But I want information, I want services, and I bleeding well want them NOW so cut the crap and give it to me!
Leave a comment