43 comments Add a comment
Why on earth are people out there still using Internet Explorer, let alone IE6? I read a news article recently that stated Microsoft are practically begging users to stop using IE6 because it is so old, and I'd could probably add that they realise themselves that it wasn't a particularly impressive browser.
Amazingly, IE6 still has quite a following out there with a market share of 11.33% (12% according to Microsoft, but let's not worry about accuracy shall we?). A large portion of these browsers are used in China (34.5%) according to the global heat map on the IE6 countdown website. I suppose we could say that's not a problem since so many websites are blocked by the government anyway. That's meant to be humorous by the way, so don't get all uppity with me!.
Joking aside, it's not just China that's lagging behind, or even India, Japan and South Korea. In the UK IE6 apparently has a share of around 3.5% - which is pretty scary for a browser that's ten years old bearing in mind how many people have access to the Internet in this country.
Why is this? Are people too lazy, too scared, or is it a case of "if it ain't broke there's no need to fix it" mentality. Well I'm sorry folks, IE6 isn't doing you any favours or helping you make the most of the time you spend on the Internet. Without diving into geek-land and talking about different versions of HTML and CSS, which are basically the nuts and bolts that help define what you see on screen, Internet Explorer has for a long time shown surfers the Internet in it's own special way which might not necessarily be the way the website designer intended. In actual fact that's not strictly true, because many website designers spend a lot of time implementing various hacks and kludges to make their sites display the same way no matter what browser the visitor is using.
So why doesn't everyone build their websites the Internet Explorer way? Well, for a start not everyone uses IE and mercifully it's market share has been in very gradual decline in recent years. From 68.46% in March 2009, down to 56% in January 2011 according to Netmarketshare. Websites should work no matter what browser a person is using, but the designer shouldn't have to add a whole load of extra code to make that happen. As far as browser makers are concerned it would be good if everyone was singing from the same song sheet in terms of capabilities and standards and it is here where I think that Internet Explorer falls down more than any other browser.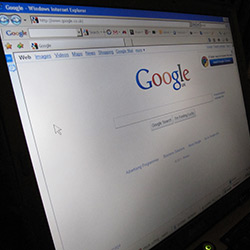 Personally, I haven't used Internet Explorer for a few years. I used Firefox for a little while and then I started using Google Chrome not long after it was released. The later is a browser that I can't recommend enough as it is probably more capable in many ways and arguably much faster than the competition. My own tests have thus far demonstrated that to me anyway.
Chrome, Firefox, Safari and Opera already have a great deal of support for HTML 5.0 and CSS 3.0 (the latest and greatest markup and style sheet languages), with this it is possible for web designers to quickly and easily create exactly what they want without having to jump through hoops. Sadly, Microsoft's Internet Explorer (with the exception of the latest Beta version) has very little if any support for these and you'll have to wait for the final release of IE9 before you see any of that. Incidentally, Chrome (and some other browsers) generally update automatically so you've always got the latest bag of goodies (Anyone for some WebGL?).
My advice would be to go get yourself a modern web browser and experience the web the way it was meant to be - today!
By: W3bjunk3y
Leave a comment