62 comments Add a comment
I'm fed up being told to have children by absolutely everyone! Why can't these seemingly insecure people leave me alone? Why do people assume that because I am now in my late twenties, that I must now either have a child or that I must be planning for one in the near future?
Isn't the country overpopulated as it is?
My wife and I are happily married and child free, and appreciate having a modest amount of disposable income and plenty of free time. We work hard for what little money we do earn and don't see the point in giving all that up just to feed an extra mouth. Come to think of it, isn't the country overpopulated as it is?
I have dreams and aspirations of a better quality of life and don't want to let anything get in the way of that. Yes, we're materialistic and ambitious but so what? Were not in fact being selfish because we don't want to procreate.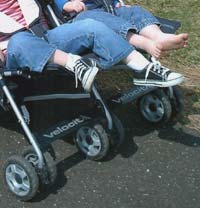 We just want to live for the moment
I've noticed that a lot of parents seem to become controlled by their children and also strike me as much more docile than people without kids. I don't want to end up like that, I want to keep that spark and drive thanks. We just want to live for the moment and having children running around the house does not bring personal immortality.
I believe that perhaps the ability to control our urges makes us more human than animal.
By: Grotnip
Leave a comment