23 comments Add a comment
Eighteen months ago I had a baby. She was all of 6 hours old when the dreaded question came..."So when are you having another baby?"
WHY do people ask this, especially when the mother is exhausted, sore and probably still shaking from the emotional and physical strain of giving birth? It's not as if I was even thinking about the next day, let alone the next child!
"Yes, I've been sliced from front to back and I'm in a hundred different types of pain, but I simply can't wait to go through it all again as soon as possible!"
It seems to have set a trend. As my daughter grows older and approaches pre-school age it seems as if I'm expected to get broody all over again, with at least one person each week asking me when I'm giving my child a brother or sister.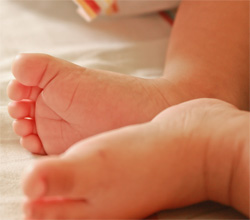 It's almost as if it's illegal to only have one child. And notice I said "when". It's never "if"...
Quite frankly, I'm getting sick of the question, and I'm also getting equally fed up with the way the people asking these questions make me feel selfish when I say quite honestly "No, I don't think I want another child!", it's as if I'm depriving my daughter of something by not going through all that again.
Admittedly the hubby and I haven't decided firmly one way or the other, but our general feeling at the moment is that we're quite content with the one we have, and another child might stretch us a bit too thin, financially if not emotionally.
The ironic thing is that the people who insist on me having more children are the same people who tut-tut when they hear about the couples who have numerous kids while on benefits. Seems like you're damned if you do, and damned if you don't. So for now, I pick 'don't'...at least I get a good night's sleep!
Leave a comment