105 comments Add a comment
There has been a fair amount said about how useless call centre staff are, your customer service skills are lacking, the call centre has been outsourced to India etc. Well I work in a call centre and although it isn't a very exciting job, its an honest days work and it allows me to pay the bills, put food on the table etc.
We encounter a wide range of and quite a variety of attitudes in our line of work. Some people are pleasant, others are not so pleasant. When ringing businesses to make enquiries I find most secretaries are an impenetrable fortress of rudeness.
We are real people you know! There is simply no excuse for the way they treat call centre staff who have to ring them because it is their job to do so.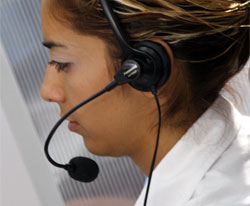 A certain amount of civility has gone from communication these days. I am sure a lot of people have the kind of mind set that means if they cannot see the person they are talking to, it is somehow perfectly acceptable to be rude, abrupt and patronising.
Call centre employees are only doing their job. They do not get paid to have abuse thrown down the receiver at them.
A little politeness goes a long way. So treat call centre staff as you would like to be treated yourself; you never know who might be on the other end of the line.
By: Holly
Leave a comment