39 comments Add a comment
This gripe is probably going to annoy a lot of people but it's got to be done! Football (especially in England) really gets on my nerves and because it's everywhere, all the time, you just can't get away from it.
It's entertaining is it? Well where exactly is this entertainment value because there are so few entertaining games these days. The accumulation of points/goals is often infrequent or non-existent! Then there's the money paid to footballers who contribute so little to society. It's appalling and although SOME soccer players give money to charity, the majority do not. By the way, you just have to fart near an opposing player and he goes down, very manly, very butch, VERY LAME and definitely not entertaining.
Doesn't the presence of so many foreign players/managers/owners who have to be the ones to take the English teams to finals bother you? It doesn't seem to bother the press. What about the average English fan? Where's your pride man? Please don't tell me its wonderful to have them here showing off their skills because that's just a load of nonsense!
Why bother interviewing managers and players? The foreign ones can barely string a sentence together and don't add much value/insight and I suppose the same could be said for the local ones too. Martin O' Neil is perhaps an exception. Nobody offers anything of value, state the obvious, mundane old cliches. I appreciate you cant give away team plans and tactics but Sky/BBC, why do you put microphones anywhere near these people? Do fans hang on Benitez's every word?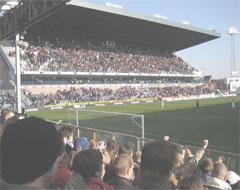 Is it me or do managers (and sometimes players) far too frequently accuse the referee of being biased against them (their team, specific players) in sometimes subtle and sometimes not so subtle ways? Aren't these accusations extremely unprofessional and childish? Whilst I appreciate football is big business (and maybe that's the root of the problem), why do opposing managers never compliment the other side? It's always about how poor their team did, the referee, the surface, the groundsman, the opposing fans or whatever else that they can find to whinge about.
The childish mind games between managers and players is equally embarrassing. I accept that sometimes, the press hype these things up but its playground stuff man. A says B is a diver, B has a hissy fit and says A is just plain nasty and mustn't be so horrible.
Why do so many fans view their teams success as a personal reflection on themselves? Is it because they are such sad, useless members of society who have failed their families, friends and themselves that they project a teams success (or lack of) onto themselves? Have you read all the childish jibes fans throw at each other 'Our teem r goin' to win da leeg cos yor manager sux. Tee hee'. Have you heard the quality of the feedback from the stands (see Lee Evans - Wired and Wonderful)? Nice, especially when you have taken your family out to the footy for the day.
People often have a go at rugby for being a toff sport when its not really about class/money is it? You have togs and a leather ball, just like soccer. Perhaps the basic rules are too complicated for most people whereas any old chav can understand soccer rules. Go through the above list and see how much applies to rugby. Even if one or two points were also applicable - relative to soccer?
I recommend we dismantle all football stadium and donate the building material to 3rd world countries, draft the soccer players into military school/camp and beat some sense into them, confiscate their wages and channel this money into training British tennis players and athletes.
By: Dave
Leave a comment