35 comments Add a comment
A few days ago I was watching a news bulletin concerning the recent severe winds in Scotland, and mention was made that a fishing vessel was in difficulties out at sea.
I thought that was only to be expected, but was amazed to hear that this particular craft was Spanish! Now I understand that the, once proud, Scottish fishing fleet has been decimated over recent years; apparently to conserve fish stocks.
If this is the case then why, on earth, is it considered acceptable for Spanish boats to take a share of this dwindling resource? As well as fishing our waters, we are even extending the use of our coastguard these days to rescue Spanish fishermen when they 'get into trouble' in their boats. What gives? Don't we have enough problems with British industry?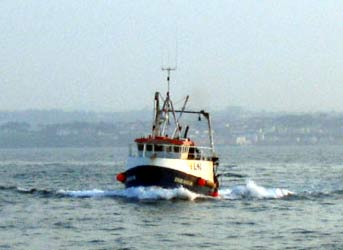 A little research will show that our own fishing fleet has been in serious decline for decades and things aren't getting any better. Around fifty years ago the industry employed upwards of thirty thousand fishermen.
Today's fishing fleet may be lucky enough to get into five figures, however information regarding that is pretty sketchy so I am unable to verify this.
Just selling Britain by the pound
It looks to me as if those in charge are just selling Britain by the pound and don't really care about our fishermen and their families.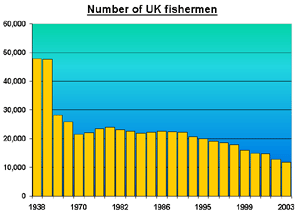 I just find it very sad that a once great fishing industry appears to have been just handed over to our European neighbours on a plate. What next, our oil and gas reserves? What's left of the coal industry?
Britain is an island surrounded by water and fishing has part of our heritage for generations. Why have successive governments done this and destroyed the livelihood of so many? Why do they continue cave in to the demands of other European countries?
Article concept by Bob.
Leave a comment