45 comments Add a comment
What ever happened to the traditional British chippy? These days if you're out for a night on the tiles and have a hankering for some fish and chips at pub closing time, the chances are you will be out of luck.
There are still a fair number of chip shops around but they all seem to shut quite early on in the evening. Our local chippy may well open earlier, but they shut well before pub closing time at around 10pm. Even before the pub opening hours came into force I'd noticed that most of the chippy's in towns that I visit seem to shut up early.
Whilst the chip shop is closed we still have plenty of choice for late night food. There are Indian takeaways, Chinese, kebab shops and pizza restaurants etc. You name your taste and the chances are you can probably get it, except that is if you fancy some fish and chips or pie and chips. I know the kebab shops, even the Indian and Chinese places do chips - but they're just not the same.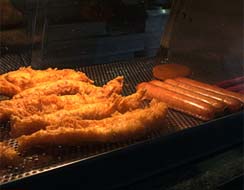 Sadly, gone are the days of the fish supper (that's what we called them) wrapped up in newspaper, black pudding, white pudding, mushy peas etc; they're all a thing of the past it would seem and have been replaced by artificial, over salted potato shaped into skinny fries with mechanically reclaimed chicken. This lovely meal is of course served up in a polystyrene tray with a plastic or wooden fork thrown in for good measure.
Please... bring back the traditional British chippy at pub closing time. I miss the mushy peas, fish and chips, but most of all I miss that lovely chippy sauce!
By: Kenny
Leave a comment