53 comments Add a comment
Here are a few truths that may make shocking reading. Dolphins and porpoises are being caught up in fishing nets around the United Kingdom, and in most cases they die. The awful spectacle of dead dolphins on our shores will probably continue unless a lot more action is taken to prevent this from happening.
The death of these lovely creatures in drag nets is not only a conservation issue, but also a serious matter for the welfare of dolphins. The trapped dolphins thrash around and panic in their struggle to get to the surface to breathe. It is common for them to suffer many broken teeth, their beaks, jaws and fins are torn in their furious attempt to break free from these drag nets. Eventually they suffocate and die when they run out of air.
The bass trawl fishery has killed an estimated 67,500 common dolphins in the last 15 years. They are trapped and killed in nets dragged at high speed through the English Channel and the Bay of Biscay during December, January, February and March. Many hundreds more dolphins will probably die this winter, and Dolphin Care UK and The Wildlife Trusts believe that the only way forward is to completely ban this form of fishing until solutions or alternative measures have been fully trialed and researched.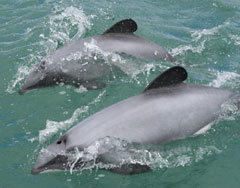 So how you can Help Dolphin Care UK? We urgently need your help in our campaign to stop dolphin deaths in fishing nets.
More dolphins, porpoises and whales die every year by getting tangled up in fishing gear than from any other threat. Small whales, dolphins and porpoises are the most vulnerable because they generally aren't strong enough to break free and come to the surface to breathe. For these smaller cetaceans, entanglement can cause death by drowning.
Your urgent help is needed to change fishing practices. The cost of bycatch to the ocean ecosystems is immense, and those fisheries with substantial levels of bycatch are clearly neither acceptable nor sustainable.
Visit our site and help us put a stop to the deaths of our beautiful dolphins and porpoises.
By: Chris Lowes - Dolphin Care UK
www.dolphincareuk.org
Leave a comment