86 comments Add a comment
Some ideas to tackle the problems of pollution and loss of life at sea. Why not transport oil in large double skinned containers? Filled before the arrival of a vessel they could soon be loaded, and in the event of an accident they would or could be made to float off. The double skin would only have to have a small gap to enable them to float, the oil already being lighter than water; they then could be shepherded together and towed to shore.
No more huge oil slicks
Offloaded containers once pumped out could be cleanly vented and purged, and that would stop many accidents at sea. A big advantage to shipping companies would be the vessel could carry other cargo if required, or even a mixture of cargo.
Don?t tell me, I know, it would probably mean spending a little bit more money. After an oil spill a vessel may sink and can lead to loss of life, any ship sinking could have this outcome. Could the loss of life be improved, I think so.
While I was on a survival at sea course, it was made very clear to me that in the event of a ship sinking, survivors problems are far from over even if they manage to launch a lifeboat or life raft. In most cases they will have to swim, albeit for a short distance, not a good thing in cold seas, and once they have clambered into the boat or raft they still have problems.
The problems...

1. Keeping warm once wet
2. Are there enough provisions?
3. Where will they drift to?
4. Does the equipment work?
5. How long before rescue?

There has to be a better way, well I think there is and here are some possibilities that could work.
Design a vessel where all the upper decks are a vessel in there own right.
Design a vessel where the top deck is a vessel in its own right.
Design a vessel where the bridge is a vessel in its own right.
All three of these options are possible, however the first option would probably be far too costly.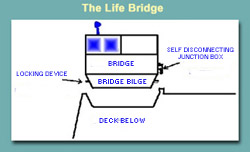 What I feel would go against the second option, is also the cost, but mainly it would be the difficulty in regard to a passenger ship, to get all the passengers to take up residence in this top deck. It may be a deck normally used for dancing, but whatever its use it would now become the life deck, and I do feel that as the watertight doors were shut a certain amount of panic may set in. Of course there would still be Life rafts in addition.
The Life Bridge would be of reasonable cost, if it helps to save lives. Instead of single thickness of plating between the top deck and the bridge, it would be double. All wiring from the bridge for engine room controls would incorporate outside the bridge a self-disconnecting junction box. Other services could have similar connections, even self-sealing for water or drainage runs.
And finally...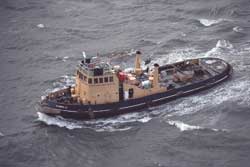 Future vessels could be built with, or existing ones converted to have a Life Bridge or small life deck. Either would incorporate a shallow bilge, angled to fit into an angled recess in the deck head below, and held solid with handle or wheel locks. Services, electrical etc. would be joined with self-disconnecting / self-sealing connections.
The vessel would still have life rafts, but the crew who man the life bridge or life deck would once floated be in the position of being able to tie rafts to the structure and issue rations stored in the bilge. Bridges and all the instrumentation could even be used again.
The Life Bridge would offer a greater chance of survival, but the question as to be would the shipping companies still think that this small increase in cost is not required.
Visit the followign web site for more artwork and information on the life bridge
http://www.artbydecart.co.uk
Leave a comment