129 comments Add a comment
Dolphins and whales on the verge of extinction, thats what I think we are looking at here if things carry on as they are. Over fishing, particularly that of dolphins and whales does need to addressed before it is too late.
It's a beautiful sight, a clean clear blue sea teaming with fish and wildlife there for everyone to enjoy and benefit from. It is just a shame that it won't be that way for much longer and the legacy that we will leave our children is a world of polluted seas and fish, whales and dolphins hunted almost to extinction. It makes feel sad, and extremely angry when I think of the fishing, or rather overfishing practices of countries such as Japan where there is no regard for world fish stocks. Let's not forget Europe, where overfishing is also common, and we should know better!
Around 20,000 dolphins are killed off the coast of Japan every year and it is widely regarded in the small fishing towns as a great honour to be able to hunt dolphins and whales. Despite enormous criticism from environmentalists and governments the slaughter continues and the meat from whales and dolphins fetch a high price on the local markets, and is much more profitable and prized than either tuna or regular fish.
20,000 Dolphins killed every year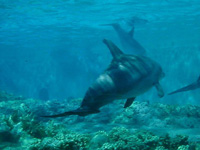 It's probably a bit radical to actually work, but imagine if we could all boycott buying products from countries that are involved in overfishing and force them to take notice of the rest of the world and look at what they are doing. Okay, there might be a problem or two here because we all need memory chips in our computers and we buy many of cars, motorcycles, clothes, food and other goods from these countries each year. A documentary shown on BBC Television 9th November 2004 highlights the current problems of dolphin hunting.
Take a look at this article as it may be of interest to some of you who actually care about dolphins and whales.
Leave a comment